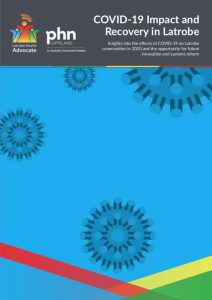 When COVID-19 emerged as a global, national, state, and local issue during 2020, the pandemic became an important consideration for all work at my office.
I heard from communities, businesses and governments throughout 2020, identified issues and gaps in the local system and reported directly to the Chief Health Officer and Minister for Health on a regular basis. I heard about digital inclusion and exclusion, mental health and wellbeing, access to services, social connections, increases in food insecurity and financial stress.
My office has partnered with the Gippsland Primary Health Network to produce this COVID- 19 impact report, which analyses conversations and engagement conducted with communities across Latrobe in 2020. The report is designed to identify system gaps, consider broader opportunities for health system reform, and provide advice to the Victorian Government and organisations within the Latrobe Health Innovation Zone about key commitments required to inform recovery.
COVID-19 has led to significant shifts in the way services and communities utilise technology, and I have heard from Latrobe communities about digital inclusion and exclusion. Digital literacy improved for some people and services, but others reported that they did not have technology or the ability to link to technology, and felt excluded as a result. Factors of digital inclusion and exclusion are applicable to everyone – individuals, communities, businesses, health services and community groups. It is time now to consider what can be done to support people to move towards a future where technology is embraced to ensure greater access to services and drive better health and wellbeing outcomes for everyone.
Services and organisations across Latrobe found new ways of working throughout COVID-19. Telehealth became an important feature of the response. Social media was commonly used as a platform to share messages. General practices streamlined processes to get scripts to pharmacies and arranged for this to be done digitally. Maintaining innovations and positive changes like these achieved throughout the COVID-19 response will be an equally important factor as we move towards recovery. There is an appetite for change in Latrobe and a shared desire and willingness for this to continue in the post-COVID-19 world.
I heard that people who were experiencing loneliness and isolation before COVID-19 were feeling even more disconnected. They were separated from friendships and community services that they depend on for their general and mental health. There is considerable work being done to reduce the longer-term mental health impacts of COVID-19 on the entire community, and I am looking forward to working with services in Latrobe to find the best opportunities for people to experience better mental health.
Industry and businesses across Latrobe were impacted by COVID-19. There was a need to achieve an appropriate balance between health and economy, understanding the importance of preventing further inequities in communities. In line with my Statement of Intent, I see health as everyone's business. My office will continue to encourage industry and business to support the health of its workforce and communities across Latrobe.
To realise the key commitments of this report, government, services, and organisations need to work together to facilitate and steer recovery. The COVID-19 response showed us what can be achieved when everyone is pulling in the same direction. While the COVID-19 impact is relatively low for Australia compared to the rest of the world, it has highlighted what is needed and what is effective when working towards strategic, system-wide change to enable good health and wellbeing. If COVID-19 has shown us anything it is that it is possible for all levels of government to collaborate to achieve a common goal.
This report draws on engagement data and events that occurred during 2020, in which Melbourne and regional Victoria were significantly impacted by measures put in place to protect communities and limit the spread of the virus. The report was prepared during the 2020-21 Victorian Government budget cycle and prior to the release of the 2021-22 budget. The most recent COVID-19 outbreak in Victoria has shown us that the pandemic will continue to have health and economic impacts in Latrobe communities, reinforcing the importance of actions to address the report's findings.
I will be working with governments and service providers to make the connection between recovery and all the social determinants of health. I'm here to listen and to help our health system understand and respond to the needs of communities in Latrobe, and I am now preparing to support and inform recovery for our region.