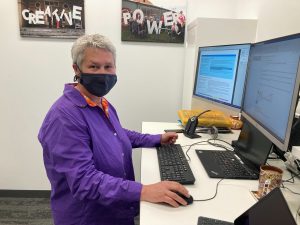 Vaccination rates are rising across Victoria and as we near the target of 70% and 80% double dose, the state will soon emerge from lockdown and we will see the further easing of restrictions. While this is welcome news for many people, there are some who will be feeling nervous about the changes, and it is important to remember that these feelings are not unusual.
Opening up means we are also moving into a phase where we learn to safely live with COVID, and an immunised population means the health risks will decrease significantly. Evidence tells us that fully vaccinated people are less likely to contract the virus, less likely to have a severe case, and less likely to require hospital admission.
As restrictions ease across Latrobe, some people may experience heightened levels of anxiety, but by continuing to follow public health orders and guidelines we can keep ourselves and others safe and, importantly, contribute to a safer Latrobe.
Communities have shown their ongoing commitment to guarding against COVID -19 throughout the pandemic, and while vaccination rates in the region are improving, Latrobe is still behind other local government areas in Gippsland. The city of Latrobe, like most others across the state, has experienced multiple COVID-19 lockdowns over the past two years and we have become adept at social distancing and adhering to public health advice to protect ourselves and others.
Data from the Gippsland PHN (2018) shows 98% of 5-year-olds in Latrobe are fully immunised against childhood diseases such as measles, mumps, and whooping cough – above the state average of 94%. Just as these vaccines are safe and effective ways to protect our children and our community's health, so too are the COVID-19 vaccines. We can all play our part by getting vaccinated and encouraging others to do the same. It would be great if our COVID-19 record could match our great record with other vaccines.
Throughout the pandemic my office has attended regular briefings with the Department of Health, local government, and service organisations to raise issues affecting local communities and discuss supports available on the ground.
As the Latrobe Health Advocate, it is my role to seek out and listen to the voices of people who may not ordinarily be heard. I am here to listen and to help our health system and governments understand and respond to the needs of communities in Latrobe, and I will continue to support and inform recovery for our region.
My office at 2 Tarwin Street, Morwell is open to the public on Tuesday and Thursday from 9am – 5pm, and we are available by phone or email to hear your concerns and, where possible, assist with any questions you may have.
You can contact the team at the Latrobe Health Advocate's office by phoning 1800 319 255 or emailing info@lhadvocate.vic.gov.au. You can also follow us on Facebook for more updates at
@LHAdvocate.
Take care,