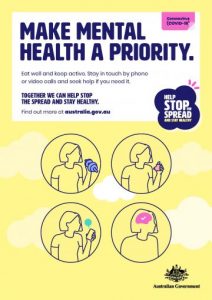 This is my third update since releasing my Statement on March 20th. While the COVID-19 emergency continues, our efforts to flatten the curve and keep people safe are paying off and we are in a better place than perhaps we hoped for just four weeks ago.
In the last week I have been hearing from people in our communities about the continuing impacts of physical distancing and the changes that we are making at work and at home to help stop the spread of the virus.
I continue to update the Victorian Minister for Health and the Victorian Chief Health Officer about how COVID-19 is impacting Latrobe communities and thank you for sharing with me your suggestions and experiences.
What am I hearing.
This week I have continued to hear from community members and representatives from industry and business.
For some the physical distancing rules are hard to understand and people are feeling the effects of isolation and loneliness and long for the freedoms they once had. That old saying "you don't appreciate what you've got until it's gone" may ring true at this time. People are anxious to get back to their family and friends, to play a game of golf or just have a chat and give someone they love a hug.
People are ready for governments to start talking about "the way out" and feel they need to be reassured about what the future might look like.
For some there is a sense that there is little tolerance in the world. People are expressing concern about a stigma attached to the COVID 19 illness, whether you had it or were suspected of having it, and what you did or didn't do about it. The way some people are using social media is contributing to this feeling of unease and is having a negative effect on people's mental health.
I am aware that not everyone has access to social media or the technology or the skills that can help us stay connected. A local community group has expressed concern that they are feeling disjointed. Half of them do not have the benefit of being able to connect online and the group is feeling isolated without their usual social interactions.
There is a feeling among people living with disability that not everyone understands what is happening. They are relying on their carers and friends to share the information with them and to make sense of it. Some people are unsure of the rules and so they won't go for a walk because they're afraid they'll get a fine.
Houses are now a workplace, a place to learn and a home. This can be difficult for families and single parents to juggle and not everyone is coping well with the change.
Innovations I am seeing.
The Department of Health and Humans Services (the Department) is aware that people in Latrobe need ongoing access to screening and medical services. People's long-term health is dependent on them looking after themselves by practicing the rules of physical distancing, as well as looking after their ongoing health needs.
Latrobe Regional Hospital is using LinkedIn as an online platform to share local COVID-19 information and to inform people about the changes that have been made to the way people can access the hospital.
The Latrobe Health Assembly has organized a direct mail out for every household in Latrobe to promote important COVID-19 messages and provide information on ways people can access local services.
Through its social media channels, Latrobe Community Health Service is informing communities about the many services that can be accessed via telephone and video call, and through Telehealth.
I am sharing what I am hearing.
I am continuing to share my insights and suggestions with the Victorian Minister for Health and the Chief Health Officer and in my most recent update I have highlighted my interest in the following;
• What can be done by governments to provide people in Latrobe with a positive message that promotes a future to look forward to and to help everyone understand the steps that need to be taken to lift physical distancing rules? There is an understanding that this will take time; however, they are looking for something to have confidence in and to look forward to.
• The government has announced major investments into mental health supports and services. The Advocate is interested in knowing how these services will be promoted and made available to people in Latrobe?
• How can people who don't have access to technology and/or the internet remain connected to their community and health services?
• What about people living with a disability? What information and resources are available for people living with a disability and how can we ensure that these resources reach communities in Latrobe?
• Being a smoker makes you more vulnerable to COVID 19 and helping people quit smoking has been a focus for the Latrobe Health Innovation Zone for some time. What can be done to ensure these strategies continue to be implemented, with the full support of the Department, VicHealth and other state-wide agencies?
I'm here to listen and to help our health system and governments to understand and respond to the needs of communities in Latrobe. This work continues as we respond to the COVID-19 emergency.
Please share your suggestions and experiences with me by contacting me on 1800 319 255, email info@lhadvocate.vic.gov.au or follow us on Facebook @LHAdvocate and Twitter. For more information you can go to our website www.lhadvocate.vic.gov.au
This week, as always, be kind, be patient and stay safe.