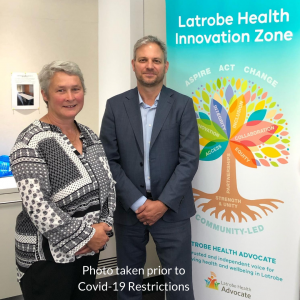 As the city of Latrobe experiences another lockdown due to a local outbreak of COVID-19 my office remains committed to playing a role in the localised response to ensure all communities are supported through this difficult time.
People in our community may be feeling overwhelmed, anxious and isolated during this period, and it is important to remember that these feelings are normal and valid. It is vital we do all we can to take care of ourselves and others, check in with friends and family, and reach out for help if we need it.
During this time I am attending daily briefings with the Department of Health, local government and service organisations to hear about the response to the Latrobe outbreak, raise issues affecting local communities, and discuss the supports available to people on the ground.
Throughout the pandemic, I have heard from communities, industries, businesses and governments about what is working well and any gaps that might need to be addressed in our local system. My observations have been reported to the Minister for Health and Chief Health Officer. I will continue to monitor the current situation and share local insights with the State Government to ensure the health and wellbeing needs of Latrobe communities remain a priority.
Communities across Latrobe have shown their ongoing commitment to guarding against COVID-19, and by continuing to adhere to public health orders and advice we can all play our part in combatting this outbreak.
Vaccination rates in Latrobe are behind other local government areas in Gippsland, and it is more important now than ever before, that we get vaccinated and encourage others to do the same. As our rates increase and we move towards the state-wide target of 70% double dose, we can expect to see the return of more freedoms and, importantly, contribute to a safer Latrobe for everyone.
As the Latrobe Health Advocate, it is my role to seek out and listen to the voices of people who may not ordinarily be heard. I am here to listen and to help our health system and governments understand and respond to the needs of communities in Latrobe, and I will continue to support and inform recovery for our region.
I encourage Latrobe communities to source COVID-19 news and information from trusted sources including the Department of Health and the Gippsland Region Public Health Unit.
While my office is working remotely, we are still available by phone or email to hear your concerns and, where possible, assist with any questions you may have.
You can contact the team at the Latrobe Health Advocate's office by phoning 1800 319 255 or emailing info@lhadvocate.vic.gov.au. You can also follow us on Facebook for more updates at
@LHAdvocate.
Take care,