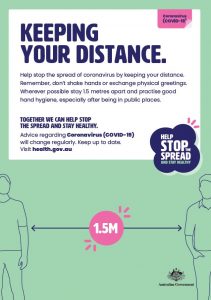 The impacts of COVID19 continue to be felt in the Latrobe Valley. Families, friends and colleagues are feeling the distance growing between them and some are struggling to keep their relationships intact.
People have again shared their very personal experiences with me this week, and they provide me with a real insight into the different ways each of us is coping with COVID19 and the changes it has brought about. What continues to shine through though is the perseverance and resilience of people regardless of their role or situation. People in Latrobe may be struggling but they continue to care about their health and wellbeing and the health and wellbeing of others.
Adapting to change is never easy and for some it can be frightening and confusing. Technology is often hard to get your head around at the best of times and under the pressure of not being able to see or talk to family and friends, even more so. For some it seems impossible.
Support services have seen a drop off in numbers attending and there are concerns that people who need support are not seeking it out and may suffer further as a result. Services want communities to know that they are still open and anyone who needs support should reach out to them.
I continue to update the Victorian Minister for Health and the Victorian Chief Health Officer about how COVID-19 is impacting Latrobe communities and I thank you again for sharing with me your experiences and suggestions.
What am I hearing.
Each week I hear from community members and representatives from industry, government and education.
In communities, most people are taking physical distancing and hygiene measures seriously however there are some who are not. This is leading to tensions in the workplace and between friends. People are fearful of going out into the street and returning to work too soon. They want everyone to do the right thing and there is resentment building against people who are seen to flout the rules.
People who were experiencing loneliness and isolation before, are feeling even more disconnected as physical distancing and staying at home continues. They have been separated from friendships and community services that they depend on for their health. What was a face to face conversation with a mental health support worker is now a text message. What was time with a friend is now time apart.
In practical terms, delays in postage and delivery services mean that some people must wait longer for medications or essential equipment. People are learning to plan more effectively.
Medical groups are reporting a concern about a low supply of personal protection equipment (PPE) and flu vaccines as more people than usual get their flu shots. The changes to the way services are delivered is working well but not everyone has the technology or skills to take advantage of things like telehealth and video appointments. Services are looking for alternatives for these patients.
While change is hard, the innovations that we've seen over the last few months show that it is possible. We will want to hang on to those things that are helpful but we're also learning quickly what is not working and we are continuing to adapt as each week passes.
Innovations I am seeing.
Staff in community services are adapting to working remotely and are interested in how this can continue in the future. It has encouraged them to improve their engagement skills, be creative and think differently.
The Latrobe Health Assembly is looking to reinvigorate the ways it works together with DHHS and local servicers to enable systems change and support the recovery from COVID19.
General practices are working to streamline processes to get scripts to pharmacies and looking for this to occur electronically in the weeks ahead.
I am sharing what I am hearing.
I am continuing to share my insights and suggestions with the Victorian Minister for Health and the Chief Health Officer and in my most recent update I have highlighted my interest in the following;
• How might governments and services engage with communities to better understand their needs in relation to access to technology and data?
• Services had to respond rapidly to COVID-19 and changed the way they interacted with communities. How can services gain feedback about the changes they have introduced to ensure they are having the desired effect?
• What can be done now to prevent violence in the home and to ensure that people who need support know that it is available and can access it?
• Who is best placed to build the skills and confidence of people in the community to access their doctor via telehealth?
• How can the Commonwealth and State Governments ensure that regardless of the pressure to act quickly, services and stakeholders continue to be engaged in how services are designed?
• What are the enablers of good innovation at the moment and how can this continue into the future?
I'm here to listen and to help our health system and governments to understand and respond to the needs of communities in Latrobe.
Please share your suggestions and experiences with me by contacting me on 1800 319 255, email info@lhadvocate.vic.gov.au or follow us on Facebook @LHAdvocate and Twitter. For more information you can go to our website www.lhadvocate.vic.gov.au
As always, be kind, be patient and stay safe.