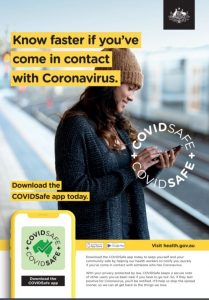 Since our first response to the COVID 19 emergency we have all made adjustments to how we live and work. Each week I hear from people in Latrobe about the changes they are experiencing and how these are impacting on their lives.
This week I am hearing that not everyone is able to make the changes that some may be taking for granted. Not everyone is embracing technology as a way to communicate and there is a new form of inequity appearing in our community. Without access to technology some people are missing out on those basic relationships-time with friends and family. And conversations with peers. Common interests are also being lost without that regular contact.
Due to everyone's hard work, the reduction of restrictions is on the horizon and we will start to see more opportunity for personal contact like this in coming weeks. In the meantime, though it's important that we consider how we can ensure that those who are reliant on this technology can access it more easily while the staged recovery begins.
I continue to update the Victorian Minister for Health and the Victorian Chief Health Officer about how COVID-19 is impacting Latrobe communities and I thank you again for sharing with me your experiences and suggestions.
What am I hearing.
Each week I hear from community members and representatives from industry, government and education.
There are concerns among community groups that those people who have not been able to stay in touch during this time will have found other interests or simply decided not to participate any more, once restrictions are lifted. For groups with a small base of volunteers this could mean the end of their group.
University students are adapting to online classes however they are missing out on the incidental supports that they would have experienced through their interactions with other classmates on campus. Without access to their teachers, their peers and even the "old fashioned" book, students are feeling isolated and alone.
Families who are supporting their primary and secondary school aged children with learning from home are also struggling. Some employers are offering flexibility, which helps, but for others they are feeling pressured and tired. Again, I have heard that families are struggling with additional stresses placed on personal relationships. Partners working from home, children learning in the same space and little or no separation is leading to a loss of lifestyle that is taking some getting used to.
Community workers are experiencing an increase in food insecurity and fear this may continue when government income supports start to reduce. With physical distancing measures in place, people are accessing food programs but unfortunately without the opportunity to choose what foods are needed for their family circumstances, only general food packs are available. No one is ungrateful for the support they receive but services feel there is little dignity in being left a bag of food on the table. They worry for the wellbeing of those families.
The value of volunteers has been highlighted throughout this emergency. People are devoting whatever spare time they have to supporting their communities in a host of ways.
Concern was expressed that some volunteers, who were no longer able to provide their usual social and emotional supports, might lose touch with the services they assist. A concerted effort has been made to stay in touch with these volunteers and encourage them to stay involved in other ways until those contacts can again be made.
Innovations I am seeing.
Government departments are working quickly to put in place a broad range of health and social programs to support communities at this time. They have adopted a philosophy of not letting perfection get in the way of progress. Concentrating on delivering local solutions to issues as they arise.
Health services are reaching out to communities in places and times that are convenient for them including shopping centres and workplaces.
Community based organisations are making regular phone calls to their members to maintain contact and check on peoples' wellbeing. They are engaging creatively with communities within the means available to them while recognising that when the emergency is over these contacts will need to go on for some time.
I am sharing what I am hearing.
I am continuing to share my insights and suggestions with the Victorian Minister for Health and the Chief Health Officer and in my most recent update I have highlighted my interest in the following;
• Who is best placed to address the increasing health inequities resulting from limited access to data and technology?
• How might government departments and funded services work together to ensure necessary services can continue beyond COVID 19?
• What is the role of grass roots community groups and neighbourhood houses in relation to COVID-19 recovery? What investment might be needed now to ensure they are best placed to help prevent longer term community health issues?
• What more can be done to prevent and minimise issues that may not be visible but lie beneath the surface, including family violence and chronic conditions?
• What is the role of local leaders and decision makers as physical distancing measures are relaxed? What new issues can be anticipated in advance?
I'm here to listen and to help our health system and governments to understand and respond to the needs of communities in Latrobe. The generosity of people in sharing their stories with me has given me the opportunity to provide advice that reflects what is happening across Victoria.
Please continue share your suggestions and experiences with me by contacting me on 1800 319 255, email info@lhadvocate.vic.gov.au or follow us on Facebook @LHAdvocate and Twitter. For more information you can go to our website www.lhadvocate.vic.gov.au
As always, be kind, be patient and stay safe.